Fabrication: Controlled quality.
Not only do we design, manufacture and install high purity chemical, slurry, gas and ultrapure water systems for semiconductor, solar, LED and other high technology facilitities, we also manufacture the parts and components that go into those systems - to your specifications and based on our designs.
At our plants in Europe, Asia and the USA we have all the necessary manufacturing resources, including cutting, bending, stamping, shearing and welding, to produce the full range of mechanical and process components.
You can be assured that you will not find any off-the-shelf components in the systems manufactured by KINETICS. Because manufacturing precision equipment goes beyond simply assembling parts. To meet the stringent requirements of the industries we serve, we manufacture our own parts from raw materials. This includes housings, piping, fittings and all process components. This is the only way we can control the process from start to finish.
The work processes in production are structured according to project release dates and dates for the completion of work packages. This leads to cost, deadline and productivity advantages on the construction site.
The KINETICS project management system takes into account all the critical parameters that are important for the successful execution of a project.
Overview of parameters:
Security deposit
Time schedule
Costs and financial tracking
Personnel deployment & worker utilization
Building models and project drawings
Material procurement and workshop production
Management of subcontractors
Project changes and change orders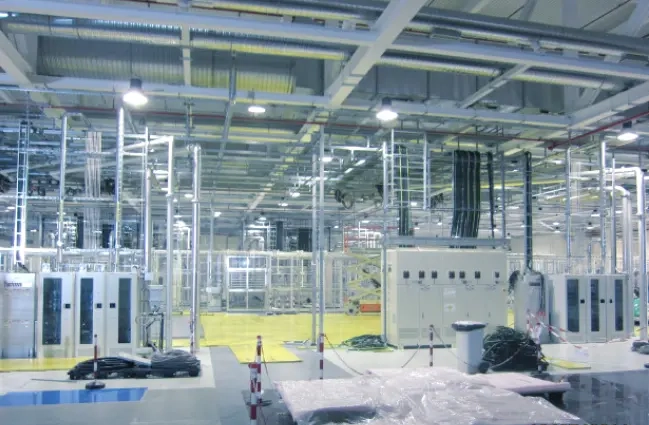 Prefabrication accurate to the millimeter and quick installation.
When building a new production facility, time is one of the most precious resources. That is why we have developed a system of prefabrication that not only saves time but also reduces the number of workers on the construction site.
This is made possible by prior laser scanning of the hall. The 360-degree image of the building provides exact information about the dimensions of tools and pipes. We weld the pipes and assemble the finished pipe systems in racks (skids) in our production facilities around the world. After prefabrication, we compare the finished module again with the laser measurement to ensure that everything fits.
We deliver the finished skids to the construction site and install them in the shortest possible time using an ingenious system of hydraulic lifting columns. On request, we can also manufacture the pipes and racks directly in our own mobile clean room on the construction site.