Special know-how for high-tech industries.
Plants that are built for high-tech industries differ from conventional production plants. Since the end products are more sensitive, the systems must be precisely calibrated. The materials required for production are more volatile and cleanliness requirements are more stringent.
From microelectronics to biotechnology, and from alternative energy to healthcare, when it comes to operating and maintaining assets, these specialty markets require careful thought and expert knowledge.
KINETICS has decades of experience operating equipment for specialty markets. Our professionals are well versed in the requirements, processes and tools needed to manage the day-to-day activities to ensure your facility is running at peak efficiency.
Reliable gas and chemical management
We take a holistic approach to plant operations, drawing on our expertise in a variety of chemical and gas supply systems in microelectronic and photovoltaic plants worldwide. Our services also cover the supply of chemicals, gases and other media and their disposal.
The quality of gases and chemicals is maintained from the receiving dock to the point of use through strict and consistent procedures and is verified through regular measurements and analysis. We tailor the gas and chemical management to your specific cost and operational requirements.
We help you to reduce unplanned downtime and repairs and to extend the service life of your systems. In addition, environmental, health and safety protection are integrated directly into your operational plans. This leads to cost savings throughout the facility and a safer working environment.
Scope of our operational activities for your plant:
Transport and replacement of gas cylinders and barrels
Mixing batches of chemicals
Routine system inspections
Inspection and cleaning of facilities
Troubleshooting the system
Measurement and analysis
Procurement of spare parts
Quality control and documentation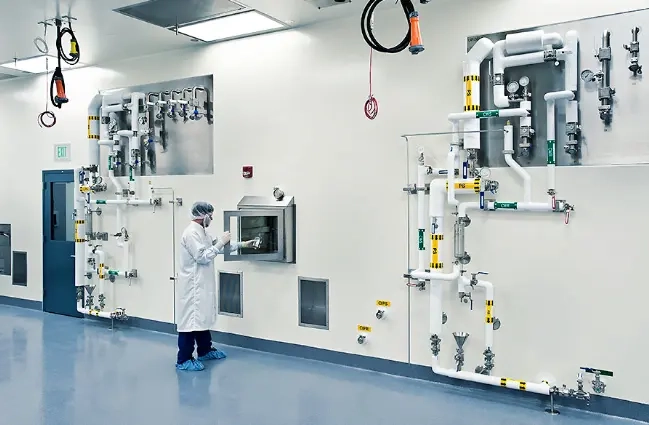 Raising your ROI
What our customers value most about us: Thanks to our expertise, we regularly make recommendations on how to increase the efficiency of a system. This is directly reflected in the operating costs. An annual reduction in the operating costs for your system with the same efficiency is not uncommon.